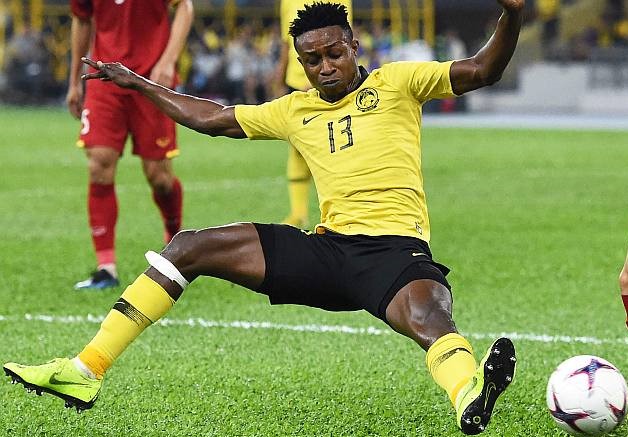 KUALA LUMPUR, Feb 9 – Naturalized Gambian-born Malaysian Mohamadou Sumareh – a hot name in Malaysian football – after taking his former team Pahang to FIFA over non-payment of salaries and winning USD1.2 million (RM4.9 million) will don Johor Darul Takzim (JDT) colors in this year's M-League.
The 26-year-old international was unveiled by the Southern Tigers as their new signing and arrived in style to sign his contract at Stadium Sultan Ibrahim.
He arrived in a limousine and the caption drove home a simple powerful message – "Driver please take me to the best club in Malaysia. Welcome to the Home of Champions."
Indeed it is the Home of Champions. JDT is the hottest football team in the country, are seven-time Malaysian Super League champions after winning their first in 2014, one year after the Johor club was born. Apart from the league titles JDT as also won the FA Cup, te Malaysia Cup and the Charity Shield.
Club owner HRH Major General Tunku Ismail Ibni Sultan Ibrahim, who is also the Johor Crown Prince, has made JDT a household name in this region and is aiming higher and wants his team to win the AFC Champions League before moving on to the bigger stage. JDT won the AFC Cup in 2015.
Pahang will have to pay the Sumareh a whopping USD1.2 million in back wages for a breach of the contract. He abandoned Pahang when the M-League resumed in August last year after a break in March due to the Covid-19 pandemic.
While the matter is yet to be resolved it is learned that Pahang and Sumareh are in talks to settle it amicably.
For now, Sumareh is one happy man to move south and don JDT colors and had this to say: "I am glad to be part of the JDT outfit, and I hope I can help the team win more trophies."
He thanked Tunku Ismail for giving him the opportunity to represent the amazing club. For him, it is a dream come true.