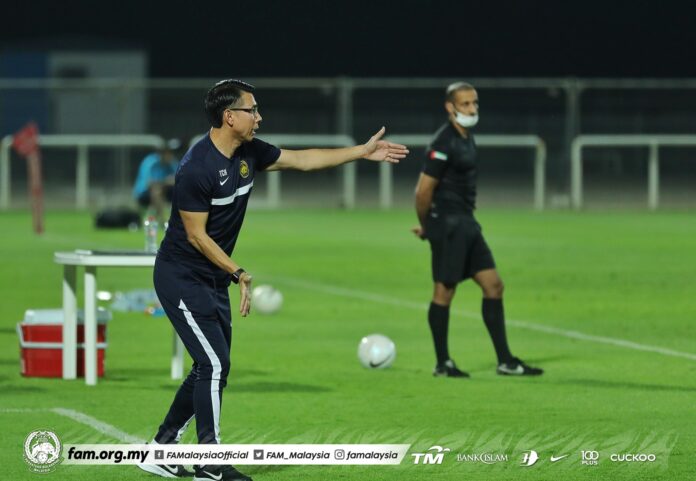 PETALING JAYA, Oct 1 – Terengganu FC defender Shahrul Nizam Ros Hasni could face possible disciplinary action when he failed to turn up at Wisma FAM on Friday – hours before the the national squad left for Amman, Jordan for a two-match playing tour.
The Harimau Malaya is down to play two-Tier 1 international friendlies – against Jordan on Oct 6 and Uzbekistan on Oct 9 as part of their preparations for the AFF Suzuki Cup 2020 which will played in Singapore from Dec 5 2021-Jan 1 2022.
National football Tan Cheng Hoe was disappointed with Shahrul's 'disappearance' without news.
According to Cheng Hoe, the player could not be contacted because he had switched off his mobile phone. The FA of Malaysia (FAM) and Cheng Hoe contacted Terengganu FC coach Nafuzi Zain to enquire about the player but even Nafuzi ran into a wall.
"What hurts is that Shahrul Nizam had been informed before hand of the call up. Now he has 'disappeared' without news. It is too late to call up replacements.
"This is national duty. Sadly, the player had switched off his phone and was not contactable. It has thrown a spanner in our playing tour," said an upset Cheng Hoe, who is leaving the matter for FAM to decide on the matter.
Shahrul Nizam and Ariff Farhan Isa (Kedah FC) were two late callups to replace the injured Syahmi Safari (Selangor FC) and Dion Cools (FC Midtjylland).
Another late call up was Kedah's Fayaadh Zulkfili after Akhyar Rashid of Johor Darul Takzim withdrew due to injury.
Cheng Hoe also revealed that he is bringing only 22-players for the playing tour after Selangor FC's Shahrul Nazeen Zulpakar was ruled out due to a bad groin injury during a medical checkup at Wisma FAM when the players reported.
"We will make do with the 22 players available. You are allowed to make six substitutions in international friendlies and those in the squad will be tried out," added Cheng Hoe.
Cheng Hoe and the national squad left for Amman at 3am on Saturday (Oct 2)